Main content starts here, tab to start navigating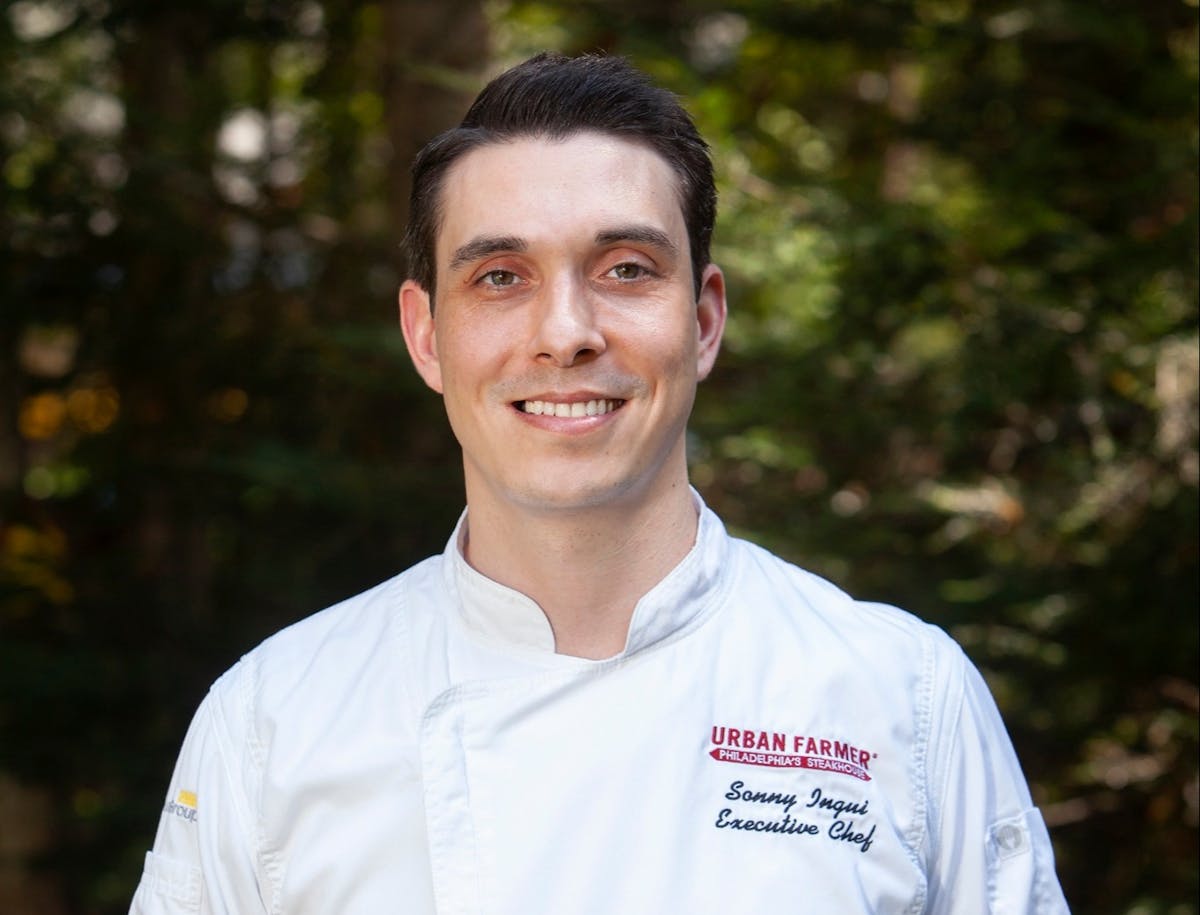 Sonny Ingui
Executive Chef, Urban Farmer Philadelphia
At Sage Restaurant Concept's Urban Farmer Philadelphia, Executive Chef Sonny Ingui highlights the inherent flavors of locally sourced, high-quality ingredients with a culinary approach he describes as elegant simplicity."I like to focus on the ingredients and let them speak for themselves," he says."If you start with quality ingredients, pair them well, and pay respect to the food, then you're likely to create a great dish."He ensures the steakhouse's purveyors have close community ties and good practices, accenting menus with seasonality while meeting the unique needs of the Philadelphia community.
With attention to every detail, he brings the same local spirit to a large-scale operation through thoughtful artisanship and chef-driven cuisine. Ingui desires for each guest to leave with a memory—whether a story drawn from the distinct flavors of sustainably sourced meats, the freshness of microgreens grown in-house, or the knowledge of their server. Fostering an atmosphere of loyalty and professionalism, he approaches his team through leading by example. "I strive to be the manager that associates, in all departments, can turn to for answers or advice," he says. By holding himself and his staff to the same standards, his team elevates guest experiences from the kitchen to the table.
Exposed to the benefits of farm-to-table cuisine from a young age, Ingui grew up on a farm in Medford, NJ, where his family grew and prepared their own vegetables. His mother's guidance in the kitchen piqued his interest, although he harbored dreams of becoming a meteorologist. Still, with cuisine in his roots, he joined a bakery at age 15, solidifying his passion and launching his professional career in the industry as a baker and cake decorator.
Ingui later attended Atlantic Cape's Academy of Culinary Arts, graduating in 2002 with a degree in culinary arts and a certificate in baking and pastry. Across New Jersey and Pennsylvania, Ingui held head baker and chef positions at various hotel properties and bakeries including Marriott's Seaview Resort, Borgata Casino, and the Radisson Hotel. Additionally, he worked for his father throughout his career—cultivating respect, a sense of responsibility and leadership, as well as the ability to think ahead—shaping his skillset to become a successful sous chef.
In 2010, he joined the luxury hotel Le Méridien Philadelphia as an executive sous chef and rose to executive chef in just three years, honing his management skills. Embracing a new challenge in events, Ingui joined the new Logan Hotel's Urban Farmer Philadelphia as banquet chef in 2015, spearheading the opening procedures of the property while running events with over 500 guests."After surpassing our clients' expectations—many who worked with the former Four Seasons management—and earning their trust, I felt more pride in my team, this operation, and our capabilities than ever before," he recalls. Within two years, he became executive sous chef and soon after, brought his talents to the role of the executive chef—expertly melding art, culture, and the elegance of Philadelphia in every dish.
Outside the kitchen, Ingui enjoys exploring the culinary scene and also spends his time fishing, biking, and visiting family.