Main content starts here, tab to start navigating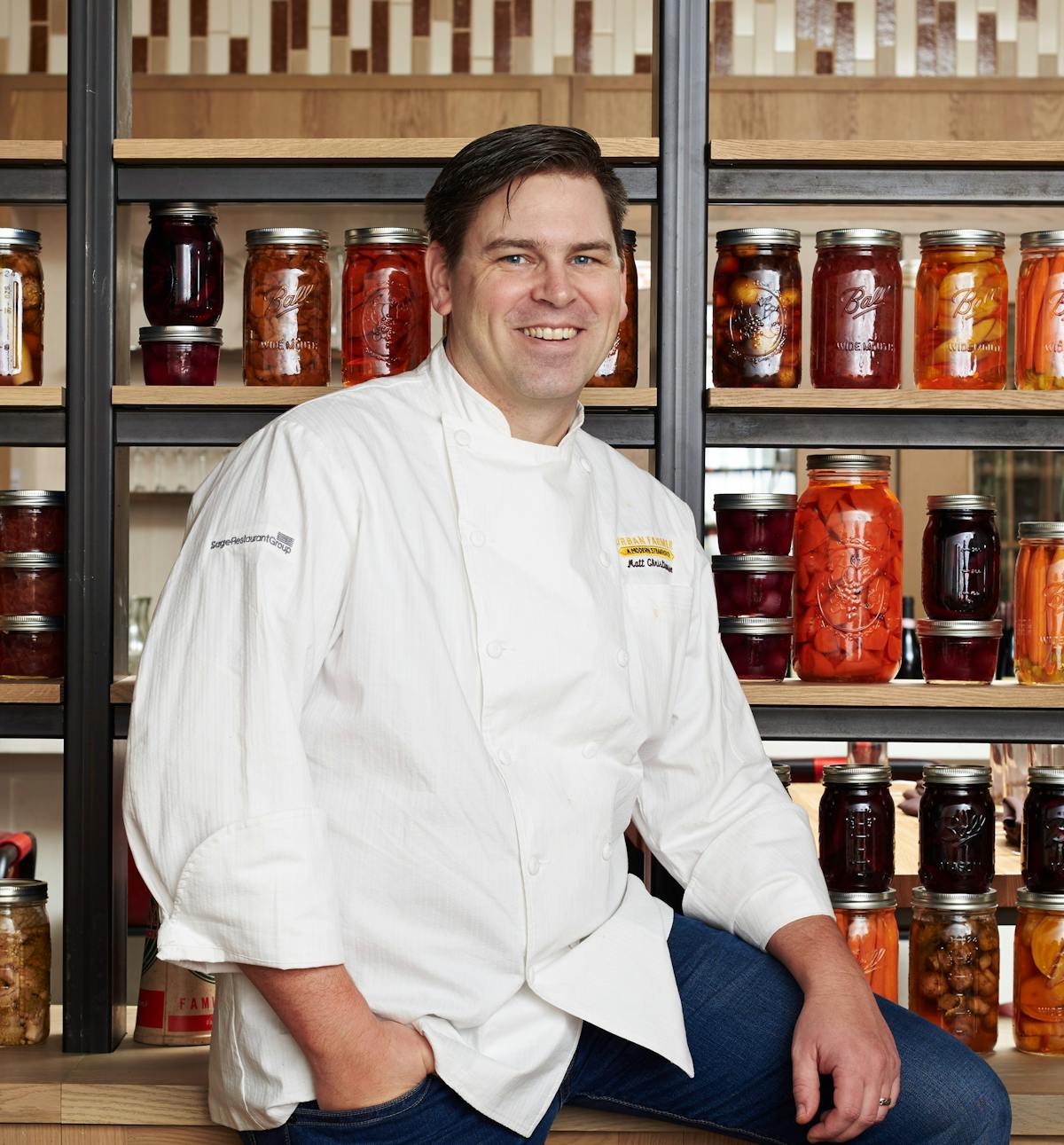 Matt Christianson
Executive Chef, Urban Farmer Portland
Chef Matt Christianson focuses on redefining the modern steakhouse with an emphasis on Northwest, sustainable ingredients, and simple, straightforward preparations in his role as Director of Culinary at Urban Farmer in The Nines Hotel.
At Urban Farmer, he runs a staff of 75 and is constantly inspired by teaching and working with so many employees. "My success as a chef is in teaching people what my vision is. I love being able to instruct, inspire, and see other people execute my vision in the kitchen," said Christianson.
He credits his parents for his love of teaching –his mom was a 5th grade teacher and his dad was an art teacher. He knows he inherited patience from his mom and his creative aesthetic from his father. Christianson brings both these characteristics to his day job by inspiring his staff at Urban Farmer by mentoring them in the industry in addition to creating beautiful plates of food.
Christianson's largest influence is the regional food culture of San Francisco from 1999 to 2005. He loves the idea of a food community and treating ingredients as well as your neighbor treats them. He emphasizes this philosophy at Urban Farmer by maintaining excellent relationships with farmers and being "farmer-centric".
Christianson has learned to unite his love of working with farmers and local products with his affinity for urban environment. His first foray into the kitchen was as a line cook in Eau Claire, Wisconsin, where he worked for four years at the award-winning Fanny Hill Victoria Inn. Christianson then moved to Evanston, Illinois, just outside of Chicago, to work at Trio. The trenches at Trio convinced him to pursue culinary school, and he moved from the Midwest to the East Coast, specifically the CIA's idyllic Hyde Park campus, where he graduated in 1997 with an associate's degree in Culinary Arts.
Fresh out of culinary school, Christianson traveled across the country to work with Bradley Ogden and the Lark Creek Restaurant Group. He quickly worked his way up the ranks to executive chef at the group's Lark Creek Inn. While there, Christianson got a taste for farm-to-table cuisine and loved cultivating relationships with local farmers and growers. But craving the experience of a high volume urban restaurant, Christianson accepted a position as chef de cuisine at Ogden'sOne Market in San Francisco. And later, lured to Boulder, Colorado to be near family, Christianson became the executive chef at Q's Restaurant in the historic Hotel Boulderado, where he learned firsthand the demands of a full-service hotel chef job. Meanwhile, he partnered with many local ranchers near Boulder. From Boulder, Christianson settled in Portland where he became the Executive Chef at Urban Farmer.
When Christianson isn't the kitchen, he's spending time with his sons, biking, or building something with his hands.