Main content starts here, tab to start navigating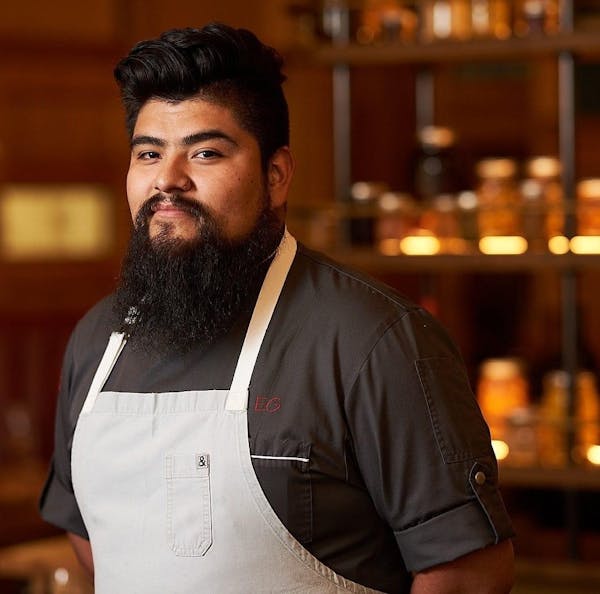 Erick Gamas
Executive Chef, Urban Farmer Denver
Erick was born in Portland, Oregon but raised in Guatemala and comes from a very large and diverse family in which the value of food was instilled in him at a young age. The ability to recognize that food brings people together can evoke feelings and memories and that knowing the source of one's food builds a different type of bond with the dish or ingredient, whether it was coffee from your grandparent's fields or the neighbor's sugar cane it meant something different.
In the pursuit of his goals to one day be a chef he enrolled in culinary school hoping to use that as a way to get started in the correct restaurant for him, Erick started working as a banquet cook in The Nines Hotel in May of 2011 shortly after completing the Le Cordon Bleu culinary program, he spent 2 years in the banquet operation as a cook and was then transferred to Urban Farmer where he continued to excel and sharpen his culinary skills working all line positions on all available shifts, Erick's hunger for the next level of success took him to the whole animal butchery program in Urban Farmer where he progressed by learning under other professionals and eventually grew into the role of the lead butcher.
In December of 2016, Erick took on the role of Urban Farmer Sous chef and continued to expand on that vison he started years prior. Urban Farmer restaurant and its concept of farm to the table allows for the creativity of this culinarian to expand his vision and does not limit the ability to undertake new techniques, flavors, and styles as Erick believes that "In order to create memorable food you must start with memorable ingredients"
In June of 2017, Erick re-located to Denver and helped open Urban Farmer Denver eventually taking on the role of Executive Sous Chef, with the support of many other highly talented chefs the restaurant has flourished into a top-ranked steakhouse in Denver and continues to strive for a focus in sustainability, food quality and memorable experiences whilst making a conscious effort to stay ahead of the trend and push the envelope of what a traditional steakhouse is. He became an Executive Chef in early 2020.
When not working, Erick likes traveling with his fiancé, is a bit of car enthusiast, photography, spending time with his dogs, and getting out of the city to become familiar with the Colorado nature.