Thanksgiving Day at Urban Farmer Philadelphia
***As of 11/20, we are sold out for Thanksgiving. We are so humbled by your support!***
Celebrate Thanksgiving Day at Urban Farmer or in the comfort of your own home.
Celebrate with Urban Farmer
Dine-in for brunch or dinner on Thanksgiving day. We will be open for dinner from 4 PM to 9 PM. Enjoy our exclusive 3 course plated Thanksgiving day menu for dinner with all of the delicious classics including our Pennsylvania Raised Turkey. Our Thanksgiving Dinner is only available on November 26, 2020, for $85 per person.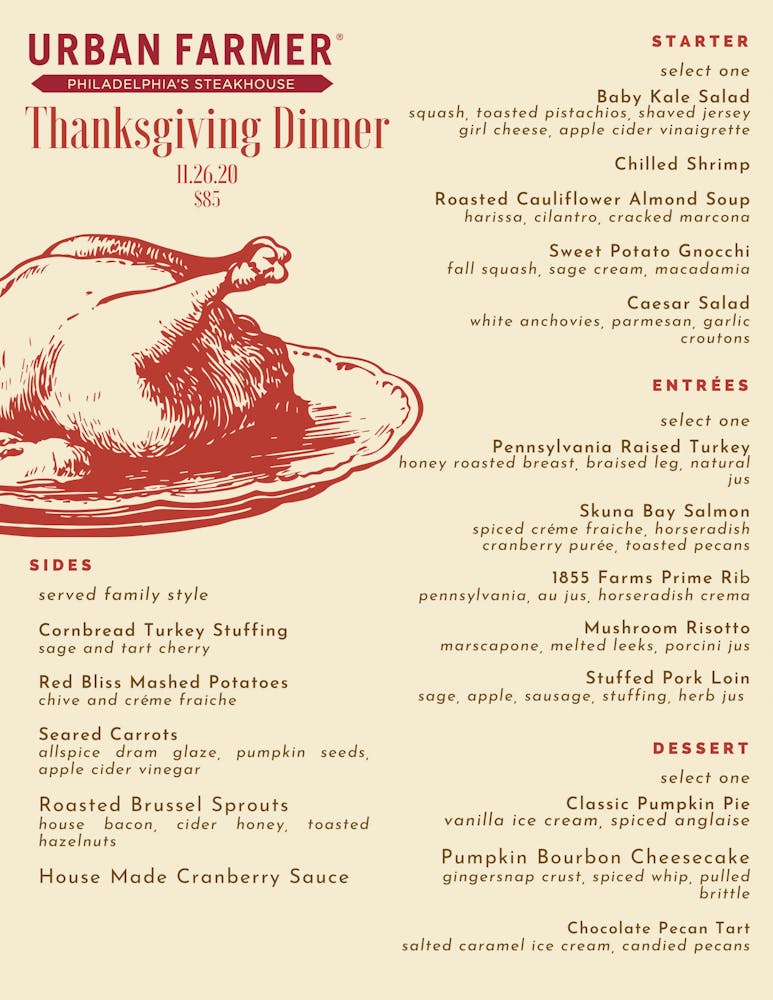 Bring Thanksgiving Home
Let us handle the cooking and order one of our Thanksgiving To-Go kits. Each kit includes 12-14 lb. turkey and all the sides. Enjoy our house-made cranberry sauce, cornbread turkey stuffing, red bliss smashed potatoes, house-made gravy, roasted Brussels sprouts, roasted carrots, house-made cornbread, and your choice of pumpkin, apple, or pecan pie.

Pick-up times available between 12 pm -3 pm curbside at Urban Farmer. Please call or see the host when you arrive. Vehicles may park in the valet lane out front of the restaurant during pick-up.
Order Online